Wishing Well Entertainment is a boutique production company with a focus on projects of social relevance, founded by actor/director Raphael Sbarge.
---
About Wishing Well Entertainments
Raphael Sbarge started Wishing Well Entertainments after he stepped in as director and executive producer of On Begley Street, a streaming series starring actor and environmentalist Ed Begley Jr., The nine-part series was ultimately sold to an online network, and received several nominations and awards.
Inspired by the impact and potential reach of socially conscious film making, Sbarge began to combine his production work with his work for his grassroots environmental nonprofit, Green Wish. A five-year Legacy Grant from the California Instituted for Contemporary Art enabled the production of A Concrete River: Reviving the Waters of Los Angeles. The documentary explored the history of the Los Angeles River and the 30-year campaign of Friends of the LA River, a group dedicated to protecting and restoring the river and its habitat.
Sbarge went on to direct and produce Is There Hope for Planet Earth? in conjunction with Cal-Tech in Pasadena, a documentary short featuring acclaimed climatologist Dr. Jess Adkins discussing climate change. Both films have been acquired and broadcast by KCET.
Wishing Well Entertainment went on to produce its first narrative short, The Bird Who Could Fly, about an immigrant Korean family's story of coming to America. The film took home Best Narrative short, Best Director and Best Ensemble awards at several film festivals around the world.
As Wishing Well's relationship with KCET took a huge leap forward, LA Foodways was born. The six-episode digital series and a one-hour feature chronicled the shift from an agricultural center to a sprawling metropolis during the past 150 years, and the resulting issues of food scarcity, food waste and the effects of food deserts in underserved communities. A strong response to the multi-part project led to an Emmy Award nomination.
Wishing Well Entertainment is committed to premium content that is socially minded, and challenge audiences. With movies, series and short form content, as well promos, commercials and PSA's, we have demonstrated over and over again, that great stories with substance and depth, have real impact.
Only in Theaters
In 2022, Wishing Well Entertainment debuted its latest documentary, "Only in Theaters," at the Santa Barbara Film Festival. The film delves into the story of the Laemmle Theatres, an 84-year-old arthouse cinema chain based in Los Angeles that faces financial pressures and seismic change. Despite these challenges, the family behind this multigenerational business is resolute in their commitment to supporting the art of film and ensuring its survival.
Distributed by The Film Collective, "Only in Theaters" has been screened in over 70 theaters both domestically and internationally. It has garnered critical acclaim, with The New York Times describing it as "undeniably compelling." Only in Theaters continues to captivate audiences far and wide.
Now Available on Amazon and On Demand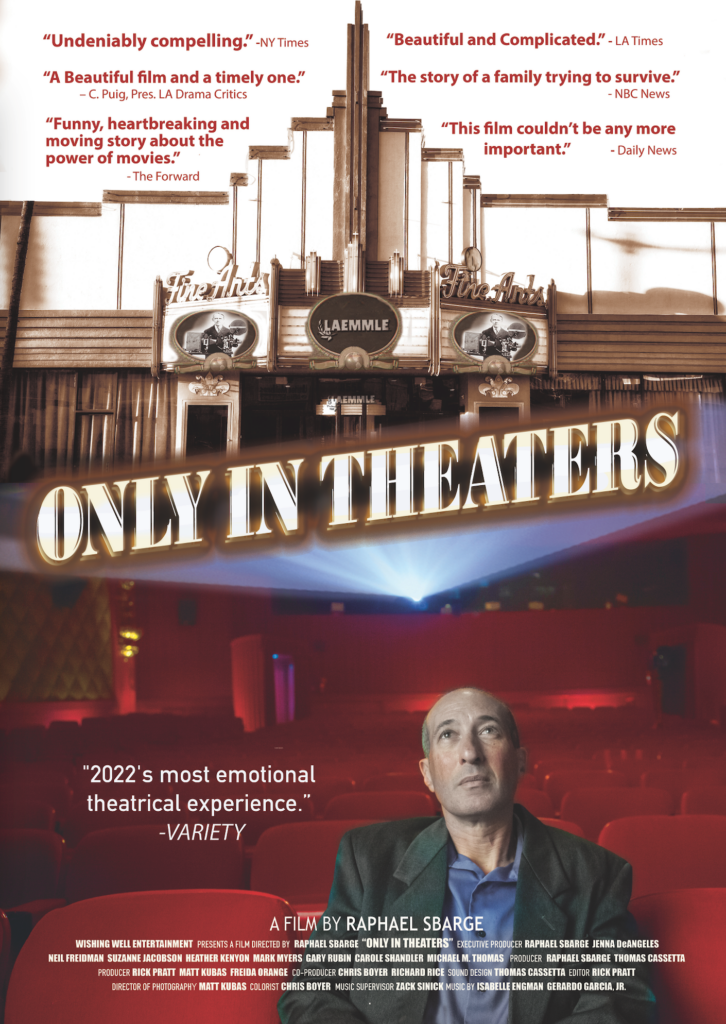 10 DAYS IN WATTS
Wishing Well Entertainment, in collaboration with KCET Los Angeles, premiered the docuseries, 10 DAYS IN WATTS on KCET and PBS SoCal, in February 2023.
This 4-part PBS series is about resilience and hope set in Watts, the most densely populated and underserved 2-square-mile neighborhood in Los Angeles. This penetrating, verité-style piece takes a deep dive into the complex and diverse people who not only survive in Watts, but are committed to seeing their enclave thrive as they open Mudtown Farms, an educational and healing community garden where children and elders gather together to deepen their historical roots.
10 DAYS IN WATTS is now available to stream on PBS SoCal, PBS and KCET.
Director Raphael Sbarge is bringing the Obie Award-winning and Drama Desk-nominated Off-Broadway The Tricky Part to film with his co-producer, actor Anthony Edwards. The Tricky Part addresses the subject of male sexual abuse; the project is being done in conjunction with the organization 1 in 6.